PULSAtron
The PULSAtron family are solenoid powered diaphragm metering pumps.
The key element which differentiates these pumps from other types is the TFE lined elastomer diaphragm.
This diaphragm is sealed against the reagent head forming a seal-less, leak free pumping chamber. The solenoid driver is connected to the diaphragm to create the pumping motion. As the diaphragm moves away from the face of the reagent head, it creates a vacuum which closes the discharge check valve and opens the suction check valve, drawing the pumped fluid into the pumping chamber. As the solenoid forces the diaphragm toward the face of the reagent head, the suction check valve closes and the discharge check valve opens allowing the liquid to flow out the discharge valve.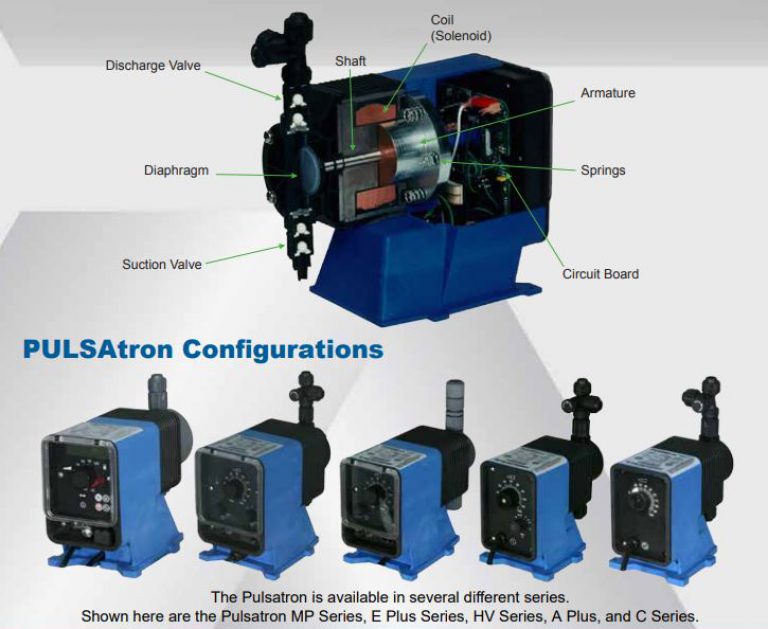 Premium Construction
Few moving parts
Optional wet-end materials
High Viscosity handling
Long life diaphragm
Leak free design
Guided Ball Check Valve System
Dual ball check with TFE seats
Reduce back flow
Outstanding priming characteristics
Highly Reliable Electronics
Timing circuit
Rated hot for continuous duty
Thermal overload
A Plus, C Plus, E Series
100:1 turn down ratio; 1000:1 on some models
Water resistant for outdoor installation
Manual control by on-line adjustable stroke length and stroke rate
Optional external pacing with Auto/Manual switch on A Plus
Internally dampened to reduce noise
Optional: External pace, external stop or both
C Series
10:1 turn down ratio
Optional automatic control by external pacing with prime switch
Manual control by on-line adjustable stroke length
Liquid low level option available to prevent loss of prime
Internally dampened to reduce noise
MP Series
Automatic control, fully scalable 4-20mADC, 20-4mADC or external pacing
Manual control allows for a combined 1000:1 turndown
Flow verification option is available on select sizes
16 character LCD display and indicator lights
Relay and stop outputs
Simple prompts in plain language and programmable in four languages
Contact Us Today!
Our drivers are skilled technicians trained to provide on-the-spot service  with the ability to troubleshoot and repair chemical feed equipment in the field.
An inventory of parts and loaner feed equipment are available on our delivery trucks, if needed.
Hawkins and your Sales/Service Representative are available 24 hours a day, 365 days a year to meet your needs. Hawkins has and will continue to aid customers with emergencies that could occur.
E Plus Series
100:1 turn down ratio
Optional 4-20mA with stop function
Optional external pacing with stop function
Auto-Off-Manual selection switch with indicator lights
Built in circuit protection with easy access panel mounted fuse
Clear hinged cover over controls for water resistance
HV Series
Automatic control, available with 4-20mADC direct or external pacing, with stop function
Manual control by on-line adjustable stroke rate & stroke length
Viscosities to 20,000 CPS
Auto-Off-Manual switch
Highly reliable timing circuit