Providing Water Treatment Chemicals, Solutions & Service for Safe, Clean Water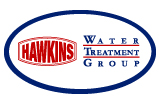 The Hawkins Water Treatment Group supplies products to customers in 18 states across much of the U.S. We utilize a route/salesperson approach in supplying products and equipment to our customers. Our driver/technician/salesperson is trained to handle on-the-spot service on the equipment we sell, as well as helping our customers find system solutions.
Hawkins is a trusted resource for our customer partners.  Water is vital to everyday needs and Hawkins helps maintain this critical resource with local deliveries and service, technical expertise,  regulatory knowledge, equipment, a large product line and custom solutions for clean, safe, reliable water.
The Hawkins Water Treatment Group supplies chemicals and equipment to treat drinking water for municipal water treatment, municipal wastewater treatment, industrial wastewater, industrial process water, non-residential swimming pool water and poultry barns water treatment.  The Hawkins Water Treatment Group has the privilege of serving hundreds of poultry barns.  With safe, clean drinking water you can help keep your birds healthy and safe from the spread of disease and infection.  For more information and see a video click    "Water Treatment for Poultry Barns".    You'll find out about our AgriHawk HOCl+ and the AgriHawk Rapid MIx System.
.