Innovation powered by the Hawkins Food Ingredients Group
Hawkins, Inc. was founded in 1938. Our evolution into the liquid food ingredient marketplace in 1994 resulted in the creation of a patented liquid sodium phosphate system called Chees-Phos®used in the production of process cheese. Because of our vast infrastructure and expertise in acid base reactions, our customers know that we are the most flexible resource available when they need customized liquid products or blends.
Today we are recognized as a leader in the development, production and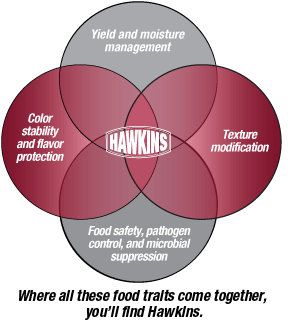 application of antimicrobial systems. Our primary lines; UltraLac and Ultra-Pure are based on the proven science of lactates, diacetates, acetates and vinegar to help you:
Control Listeria
Control Pathogens
Extend Shelf Life
Improve Food Safety
Provide Clean Label Options
We have developed a unique process that diminishes the harsh and bitter aftertaste characteristic of other commercial products. We also lead the development of unique customized blends to meet the ever changing needs and challenges facing the processed meat and poultry industries. With our customer's success, Hawkins has expanded to be the only manufacturer with 2 domestic SQF/ISO Certified production facilities.
Our growth and investment in product development benefits you. We align with industry, academia, government and laboratories to bring science solutions to you.