Chemical Products With An Added Ingredient, Unmatched Service And Support
Hawkins Industrial Group supplies bulk and packaged industrial chemicals. As a chemical formulator, manufacturer, blender, and distributor  we have the expertise, capacity and packaging to meet your needs.  We also can provide custom toll blending services. Hawkins has chemicals available in a large variety of concentrations. We can provide the chemical concentrations you're looking for.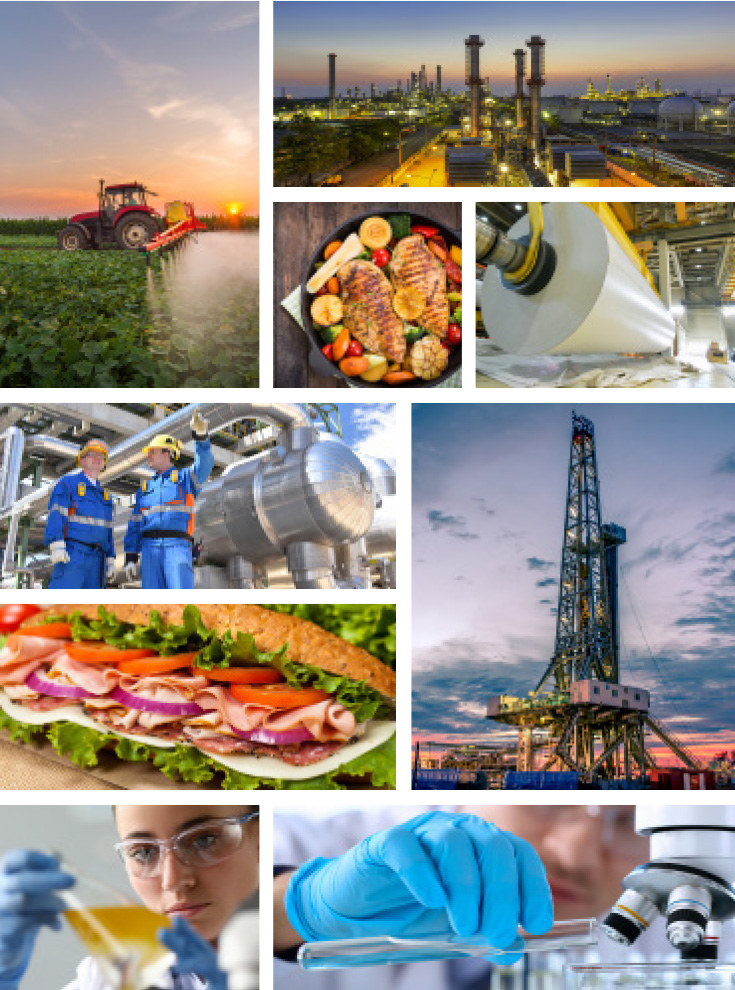 Primary markets served include:
Agricultural

Chemical Processing

Coatings and Adhesives

Detergent

Electronics

Energy

Food

Medical

Metals

Mining

Municipal

Paper

Personal Care

Petroleum Refining and other related industries
Our Promise:
To provide the highest quality chemical products with unmatched service to our customer.
Contract Chemical Blending and Packaging

Regulatory and Safety Assistance

Inventory Management

Remote Tank Monitoring

Technical and Engineering Support
Aluminum Chloride
Aluminum Sulfate
Ammonium Hydroxide
Ammonium Propionate
Ammonium Sulfate
Anti-Foams
Barium Carbonate
Barium Chloride
Benzoic Acid and Salts
Bleach
Borax
Boric Aid
Calcium Carbonate
Calcium Chloride (Dry and Liquid)
Calcium Hypochlorite
Calcium Nitrate
Calcium Sulfate
Calcium Stearate
Caustic Soda
Chelates
ChillPro – Biobased Propylene
Glycol
Chlorine
Citric Acid and Salts
Copper Sulfate
Corn Oil Extraction Aids
Dessicants
Diammonium EDTA, 45%
Diatomaceous Earth
Dicalcium Phosphate
Dipotassium Phosphate
Disodium Phosphate
EDTA and Salts
Ferric Chloride
Ferric Sulfate
Food Ingredients
Filter Aid
Formic Acid
Glycerine
Gluconates
Glycols
Hydrochloric Acid
Hydrofluosilicic Acid
Hydrogen Peroxide
Hydroxyacetic Acid
Iodine and Iodide Salts
Lab Chemicals and Reagents
Lactic Acid and Salts
Lime
Magnesium Bisulfite
Magnesium Carbonate
Magnesium Chloride
Magnesium Oxide
Magnesium Stearate
Magnesium Sulfate
Microelectronic process chemistry
Microgrit
Mineral Oils
Nitrates
Nitric Acid
Oxalic Acid
Pharmaceuticals
Phosphates
Phosphonates
Phosphoric Acid
Potassium Carbonate
Potassium Chloride
Potassium Ferrocyanide
Potassium Hypochlorite
Potassium Hydroxide
Potassium Permanganate
Potassium Silicates
Propionic Acid and Salts
Propylene Glycol – Closed Loop
HVAC
Pumice
Soda Ash
Sodium Aluminate
Sodium Bicarbonate
Sodium Bisulfate
Sodium Bisulfite
Sodium Chloride
Sodium Hydrosulfite
Sodium Hypochlorite
Sodium Metasilicate
Sodium Persulfate
Sodium Phosphate
Sodium Silicate
Sodium Sulfate
Solvents
Sorbic Acid and Salts
Sulfamic Acid
Sulfuric Acid
Stearates
Sulfates
Surfactants
Sulfur Dioxide
Tetraammonium EDTA, 50%
Thiourea
Trisodium Phosphate
Urea
Water Treatment Products
Zinc Chloride
Chemical Handling Equipment
Custom Blending and Packaging
Packaging To Meet Your Needs