Brewery & Beverage Products
Supplier & Distributor
Sanitizers • Cleaners • Acidulants • Waste  Neutralization
Sanitizers
GO2: Chlorine Dioxide, simple to use, two step kit. Final equipment rinse/container (keg, bottle, can) sanitizing
Reflex: Acid sanitizer containing a combination of acids including 6.1% peroxyacetic acid
Bleach: Strengths 4-15%
Bioside HS 15: Peracetic acid 15%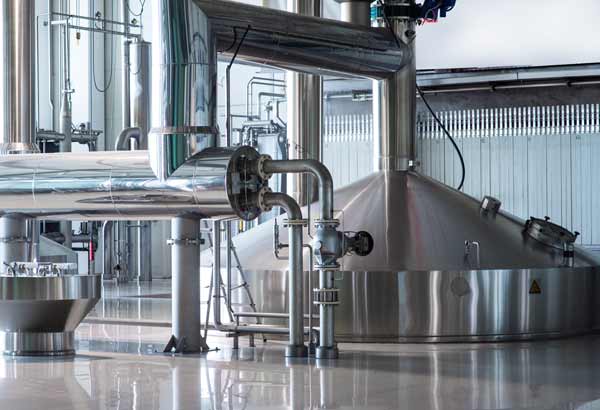 Cleaners
Customized functional blends and flavors
Hawkins Cleaner NPB: Low foam acid CIP cleaner nitric and phosphoric acid to remove scale and beer stone
Hawkins PC Cleaner: Low foam acid CIP cleaner phosphoric and citric acid to remove scale and beerstone  – follow up to caustic cleaner
Hawkins Peroxide Cleaner: Foaming peroxide cleaner 30%. Strong oxidizing cleaner good for tough cleaning challenges
Hawkins Peroxide Cleaner 9%: Foaming peroxide cleaner 9%. Strong oxidizing cleaner good for tough cleaning challenges
Hawkins Citric-Peroxide Cleaner: Low foam cleaner with citric acid, peroxide, quaternary ammonium compounds. Clean and prep canning, bottling and serving
Hawkins Caustic Cleaner: High strength low foam CIP caustic cleaner
Hawkins Caustic Cleaner 70: Mid strength low foam CIP caustic cleaner 70% of high strength
Sodium Percarbonate: The main ingredient in powdered brewer wash and dry oxygen cleaners
Hawkins Foaming Chlorinated Cleaner:  High foaming cleaner with bleach
Hawkins Beverage Equipment Cleaner: Foaming alkaline cleaner for the exterior of equipment
Hawkins Beverage Equipment Brightener: Blended acid cleaner and metal brightener – high foam
Hawkins Rinse Aid: Clean sheeting final rinse with chelating agents to keep minerals/metals in solution
Acidulants – High Purity Food Grade
Citric Acid Dry 15-50%: Cleaning, passivating, adjunct for bright crisp finish (lager like) with very little sour
Phosphoric Acid 20-75%: Acid cleaning – soda like souring
Lactic Acid 50-88%: To replace lactobacillus souring
Malic Acid Dry 50%: For crisp apple at low levels and sour apple at higher levels
Acetic Acid 10-99.5%: To replace acetobacter souring
Vinegar 300 Grain-30%: Natural acid to replace acetobacter souring
Apple Cider Vinegar 10%: Natural acid to replace acetobacter souring
Contact Us Today!
Hawkins Inc. is a supplier of products for Breweries, Wineries, Beverage & Food Facilities. As a key distributor  Hawkins has a team dedicated to ensuring the quality of the products we supply. For a reliable, consistent source of Sanitizers, Cleaners, Acidulants, Beer Souring Agents, Waste Neutralization and more contact Hawkins for a quote.
Hawkins is a business-to-business supplier, manufacturer, blender, and distributor of chemicals. We only sell to companies, municipalities, government entities, and not to individuals.
Waste Neutralization
Sulfuric Acid: 10-93%
Sodium Hydroxide: 10-50%
Premium Diatomaceous Earth Filter Aids – For the Brewing Industry
Transcend® Filtration Media Without Detectable Crystalline Silica
The better filter aid – for your products and your employees
Transcend®. It's the revolutionary new filter aid that changes everything. No detectable Crystalline Silica. A drop-in replacement for your current filter aid. Most important: It's what you've been waiting for to provide better products for your customers, and a better working environment for your employees. No detectable Crystalline Silica in your filtration– why would you want any other kind of filter aid?
Transcend. Patent pending. Produced with proprietary processing techniques.  Transcend is the exclusive, engineered filter media derived from diatomaceous earth (DE) but with no detectable crystalline silica.
Why is Transcend the better filter aid?
•   Dramatically reduce employee crystalline silica exposure, with $0 capital cost
•   Comparable performance to Celatom DE filter media
•   Drop-in replacement for conventional DE filter media
•   Superior throughput & size exclusion, relative to perlite & cellulose filter media
Other
Chill-Pro: Food Grade, Inhibited Propylene Glycol
Introducing Beer Souring Agents
Through research, analysis and taste testing we have taken the microbial process for souring beer and reproduced it without the time, danger, and costs that the microbial method of souring adds to the brewing process.
Beer Souring Simplified with four main blends:
Fruit Souring Blend    (Patent Pending)
X Souring Blend    (Patent Pending)
Berliner Souring Blend    (Patent Pending)
Flanders Souring Blend    (Patent Pending)
Beer Souring Blend Advantages:
Hawkins has simplified the sour beer process. The advantages of using a souring blend rather than a microbial method of souring include:
•  System and food safety – There is no possibility of infecting your systems with microbes and having off or failed batches due to unwanted bacteria in beer batches.
•  Shorten batch time – Kettle souring can add 24-72 hours to the fermentation time of a batch of beer. Using a souring blend only adds the time to add the blend – normally only minutes and can be done anytime from the kettle to keg.
•  Consistency – The microbes used to sour beers can vary growth rates by small changes in temperature or other parameters in the wort for making beer; microbes also mutate over time and generations. Either of these can cause flavor changes that are often unacceptable. The addition of a souring blend is extremely consistent and repeatable.
•  Split batches – A batch of beer can be split and produced as both a sour beer and a non-soured beer.
•  Recovery – Off batches may have flavors that are not acceptable in a non-sour beer but are acceptable in a sour beer.
•  Formulation – When setting up formulations, the testing and flavoring can be done at the pitcher or bucket level with no waiting for a full fermentation batch. This means the level of sour can be changed just by adding to what you are tasting.
•  Cost – When compared to the cost of overnighting a strain of microbes and the time it takes to sour the batch; the cost of the souring blend is very inexpensive.