Committed To Your Needs From Start To Finish
For over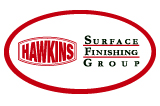 75 years the Hawkins Surface Finishing Group has been committed to our customers.  Delivering quality, technical ability and service to the Surface Finishing industry in the Upper Midwest. We are comprised of four Technical Sales Engineers, a Full-time Technical Service Lab Technician and all of the strengths that Hawkins Inc. and its sales support organization have to offer. Our state-of-the-art laboratory is capable of full analytical and troubleshooting procedures for surface finishing along with Corrosion Testing in our Salt-fog Test Cabinet.
We are a Complete Metal Finishing Distributor serving the following industries:
Electroplating
Anodizing
PWB
Paint, Powder Coating
Heat Treating
Our Suppliers
Here is just a portion of a list of Suppliers that we are proud to be associated with:
---
Contact the Surface Finishing Group
The following is a list of our sales and support staff and their territories of responsibility.
Diane Dorschner
Metro, Northern Minnesota
diane.dorschner@hawkinsinc.com
Jordan Zauner
Jordan.Zauner@www.hawkinsinc.com
Nick Corriere
General Manager
Metro, Wisconsin
customer.service@hawkinsinc.com
Sue Niemela
Laboratory/Technical Service
sue.niemela@hawkinsinc.com