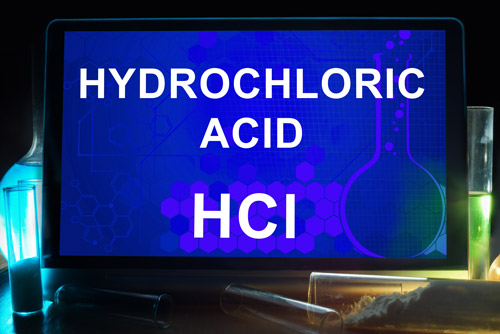 Hydrochloric Acid 20°  Baume, FCC and Hydrochloric Acid 22° Baume, FCC
Supplier And Distributor  –  CAS #: 7647-01-0
.
Hawkins is where to buy Hydrochloric Acid.   Hawkins carries high purity, Hydrochloric Acid. We also carry Hydrochloric Acid in bulk and in multiple package sizes as well as in multiple grades.
General Characteristics:
Appearance: Clear, colorless to light yellow solution
Odor: Pungent
Synonyms: Muriatic Acid
Chemical Formula: HCl
Molecular Weight: 36.46
CAS #: 7647-01-0
Shelf Life: 730 days
Storage Recommendations: 55 – 95˚ F
Hydrochloric acid is used in a wide variety of industrial applications. Some of the more common applications include: steel pickling, oil well acidizing, food processing, bio-fuels production, calcium chloride production, ion exchange bed regeneration, and mineral processing.
Description
Hydrochloric acid (HCl) is the aqueous solution of hydrogen chloride gas. It is a strong, corrosive acid, clear to straw yellow in color, derived as a co-product from a variety of chlorination reactions or by burning chlorine with hydrogen.
Hydrochloric acid is produced in solutions up to 38% HCl (concentrated grade), most commonly 31% or 35% depending on application and freight considerations. Solutions for household purposes, mostly cleaning, are typically 10% to 12%, with strong recommendations to dilute before use.
Product Grades
20° BE -Baume  (31.45%) Food Grade or Technical Grade
22° BE -Baume  (35.21%) Food Grade or Technical Grade
Hawkins Inc. is a Hydrochloric Acid supplier. As a Hydrochloric Acid distributor Hawkins distributes Hydrochloric Acid to various companies for a variety of applications and uses. Our customers depend on Hawkins for a consistent and cost-effective supply of Hydrochloric Acid. Hawkins has a team dedicated to ensuring the quality of the Hydrochloric Acid we supply.