Mining Water Treatment Chemicals
Addressing Today's Challenges & Minimizing The Impact Of Mining
Water Treatment Solutions For:
Wastewater treatment
Tailings management
Dust control
Advanced dewatering
Improved recovery of leached metals
Acid Mine Drainage (AMD)
Pond treatment
Thickener treatment
Corrosion control in mining process systems
Process water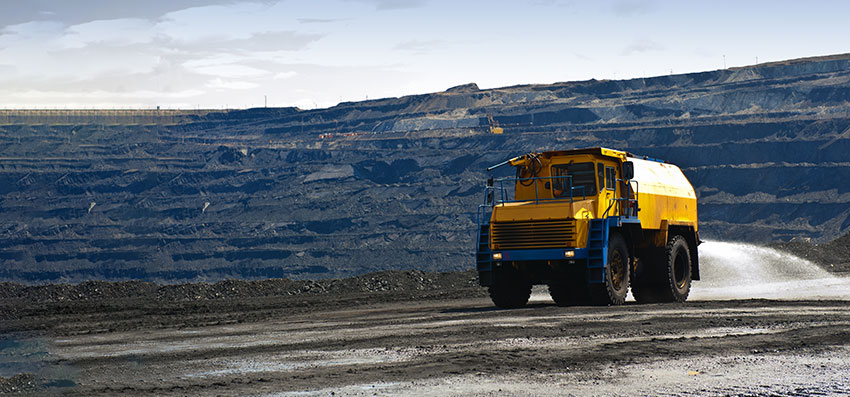 Water Treatment for mining is critical in maintaining compliance to:
Environmental policies
Industry standards
Government Regulations
The mining industry faces many challenges and issues relating to the use of water and the impact of exploration, extraction and residue management, on the environment.
These include minimizing reagent consumption and maximizing mineral recovery by improving the rate and degree to which solid liquid separation takes place in thickening applications.
Aqua Hawk® DustX – Your Road Dust Control Solution
Warning- Stop Using Calcium and Magnesium Chloride Salts!
•  Calcium and magnesium chloride salts have a corrosive nature.
•  Runoff from calcium and magnesium chloride salts has a negative effect on waterways due to their high chloride concentrations which can cause vegetation kill and upset the ecological balance.
Aqua Hawk DustX is a Better Alternative
Green chemistry, derived from agricultural products that are renewable, has both humectant and binding characteristics. This helps provide long-term dust control with a single application.
Aqua Hawk DustX is not a calcium or magnesium chloride-based product and is not highly corrosive to vehicles.
Aqua Hawk DustX will not significantly raise the conductivity and TDS of run-off water as will chloride based road dust control products.
Aqua Hawk DustX is a concentrated product that is mixed with water and applied as a solution using common road watering equipment.
With Aqua Hawk DustX you'll say goodbye to dust clouds and the problems associated with excessive dust.
DustX is a very effective road dust controller that will help with regulatory requirements, protect your personnel, improve air quality, reduce wear and tear on equipment and help reduce neighbor complaints about excessive dust.
The Benefits Of A Well Executed Aqua Hawk DustX Program:
The benefits to be realized with a well-executed Aqua Hawk DustX program when compared to water alone or other road dust control programs include:
Improved road safety
Reduced water consumption
Reduced road maintenance – grading
Reduction in labor costs (water trucks)
Reduction in truck maintenance costs
Reduction in fuel costs
Cleaner and safer work environments for employees
Happier neighbors – eliminating bad press and complaints
Contact Us Today!
Contact the Mining Water Treatment for more information on our products and services.
Hawkins is a business-to-business supplier, manufacturer, blender, and distributor of chemicals. We only sell to companies, municipalities, government entities, and not to individuals.
For pricing or more information please provide your company contact information below: