Snyder Polyethylene Tanks
Hawkins carries a full range of Snyder tanks.  Snyder has 55 years of manufacturing experience.   Snyder tanks are used for a wide range of water treatment applications, wastewater needs, agricultural and industrial solutions.
Snyder's has six major manufacturing locations, including the world's largest rotational molding facility, mold a variety of polyethylene materials including FDA and NSF 61 listed linear high-density (HDLPE) and cross-linked high-density (XLPE) resins. Superior quality systems ensure safety Snyder's commitment to quality starts with an uncompromising analysis of incoming raw materials. It continues throughout the completion of finished product assembly with the application of Statistical Process Control (SPC). Moreover, Snyder executes a final quality check with its industry-leading inspection program on products before shipment. Proven tank design and engineering expertise Snyder's large engineering staff is responsible for a multitude of polyethylene tank processes and design patents.
Municipal water or wastewater treatment applications:
Polyethylene tanks play an important role in municipal water treatment. To treat drinking water, municipalities use chemicals such as ferrics, alums and polymers for coagulation which cause solid particle in water to clump together so they can be removed. Additionally chemicals such as sodium hypochlorite are used as a disinfection agent to destroy bacteria and pathogens to make the water safe for drinking. Hydrofluorosilicic Acid (Fluoride) is also commonly added to many municipal water supplies. Snyder has safe storage tank solutions for each of these chemicals.
Wastewater treatment requires a larger amount of chemicals than municipal drinking water treatment. Highly corrosive chemicals such as sulfuric acid and sodium hydroxide are used for neutralization. Ferric chloride, aluminum chloride and polymers are used to facilitate removal of solid particles.  All of these chemicals present challenges for operators and Hawkins can help you with the right Snyder tank solution to ensure employee safety and trouble-free service.
Captor Double Wall Containment Tanks
Snyder's revolutionary Captor Containment System is designed to alleviate the ever-changing environmental and safety concerns regarding bulk chemical storage and containment for the 21st century.
Captor's unique tank-in-a-tank design enables users and specifiers to incorporate advance performance and safety features on a bulk-handling system, which provides total containment protection. Captor's double wall construction is completely enclosed so that external matter, such as dust, rain and snow is prevented from collecting in the outer containment tank.  Sizes range from 550 gallons – 12,500 gallons.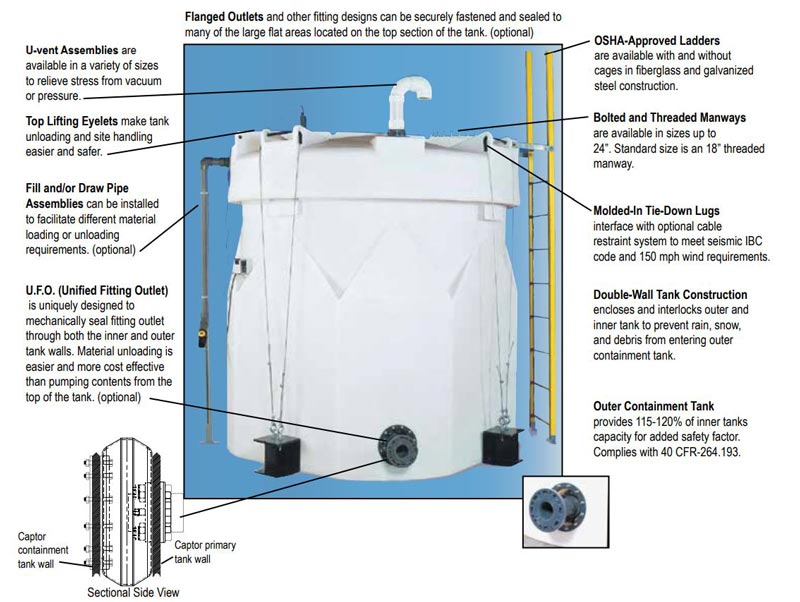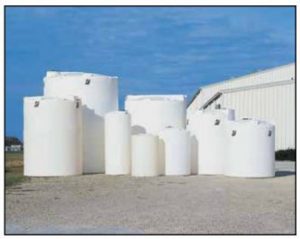 Snyder Vertical Tanks
Tanks range from 22 gallons to 18,800 gallons
Industrial and Commercial design standards available
Material options for a diverse range of applications
High-density linear polyethylene (HDLPE)*-  complies with FDA Regulation 177.1520 and NSF/ANSI 61 standards
Cross-linked, high density polyethylene (XLPE)
For outdoor Sodium Hypochlorite applications – is available for vertical tanks up to 12500 gallons are vertical tanks (all sizes) can be covered with 1″ thick polyurathane foam insulation with mastic coatings to block harmful UV exposure
Sulfuric acid resin (Multiple sizes of vertical tanks)
All materials are UV stabilized for long-term outdoor service
Contact Us Today!
Our drivers are skilled technicians trained to provide on-the-spot service  with the ability to troubleshoot and repair chemical feed equipment in the field.
An inventory of parts and loaner feed equipment are available on our delivery trucks, if needed.
Hawkins and your Sales/Service Representative are available 24 hours a day, 365 days a year to meet your needs. Hawkins has and will continue to aid customers with emergencies that could occur.
Snyder Chemical Feed Stations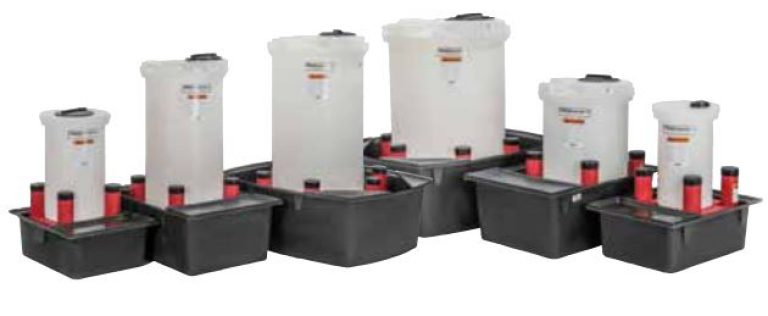 Chemical Feed Stations
Complete and ready to use Chemical Feed Stations allow you to handle small amounts of liquids and other chemicals in a safer and more efficient manner than drums. The Chemical Feed Stations can be located close to your customer's use point, thereby eliminating the need for them to move and handle heavy drums and tote bins of hazardous materials, while at the same time eliminating the handling costs and inconvenient disposal of drums and one-way tote bins. Tanks available in both HDLPE and XLPE.
Material options for primary tanks for a diverse range of application requirements.
High-density linear polyethylene (HDLPE)*- complies with FDA Regulation 177.1520 and NSF/ANSI 61 standards
Cross-linked, high density polyethylene
Opaque white sodium hypochlorite resin (for primary tank)
Sulfuric acid resin (for primary tank)
Containment basins constructed of HDLPE (Black Color) and are available
with or without a detachable pump shelf
Polyethylene stands are available (as an option) to provide easy access to
bottom sidewall or bottom of tank connections
Tanks designed for chemicals with specific gravities up to 1.9
All materials are UV stabilized for long-term outdoor service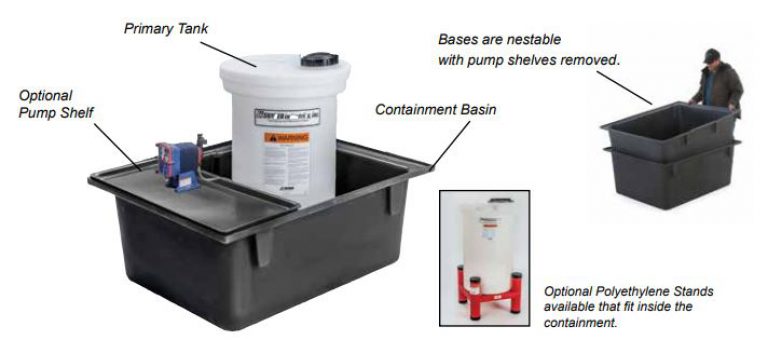 Available in a wide variety of sizes:
35 Gallon Chemical Feed Station
60 Gallon Chemical Feed Station
90 Gallon Chemical Feed Station
120 Gallon Chemical Feed Station
150 Gallon Chemical Feed Station
200 Gallon Chemical Feed Station
250 Gallon Chemical Feed Station
275 Gallon Chemical Feed Station
330 Gallon Chemical Feed Station
440 Gallon Chemical Feed Station
Smaller Double-Wall Tanks
Smaller dual-containment tanks provide added safety and environmental protection in more confined or remote storage locations. The advanced doublewall tank design is enclosed to prohibit foreign matter from entering the secondary containment tank, and a unique octagonal shape provides optimal spacing and sealing surface for the industry's most reliable transition fitting. Sizes range from 35 gallons – 500 gallons.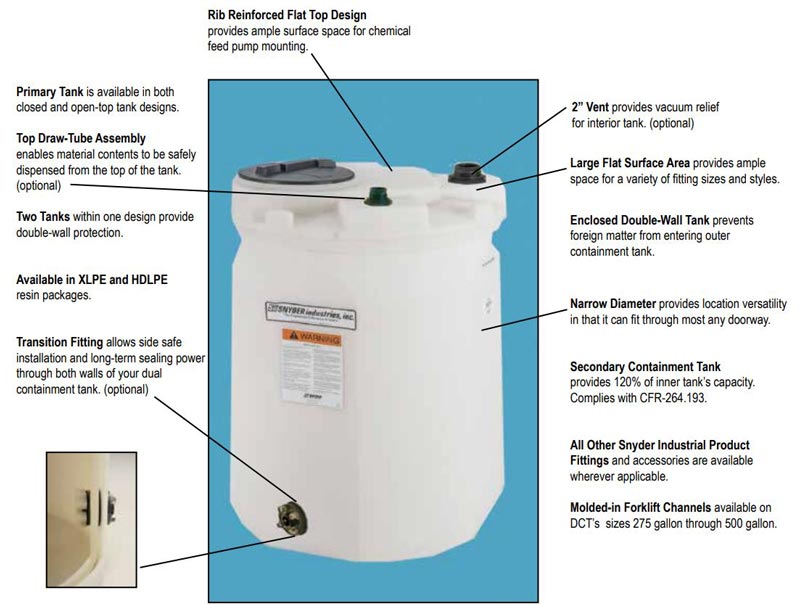 Snyder Chemical Injection System Tanks & Containment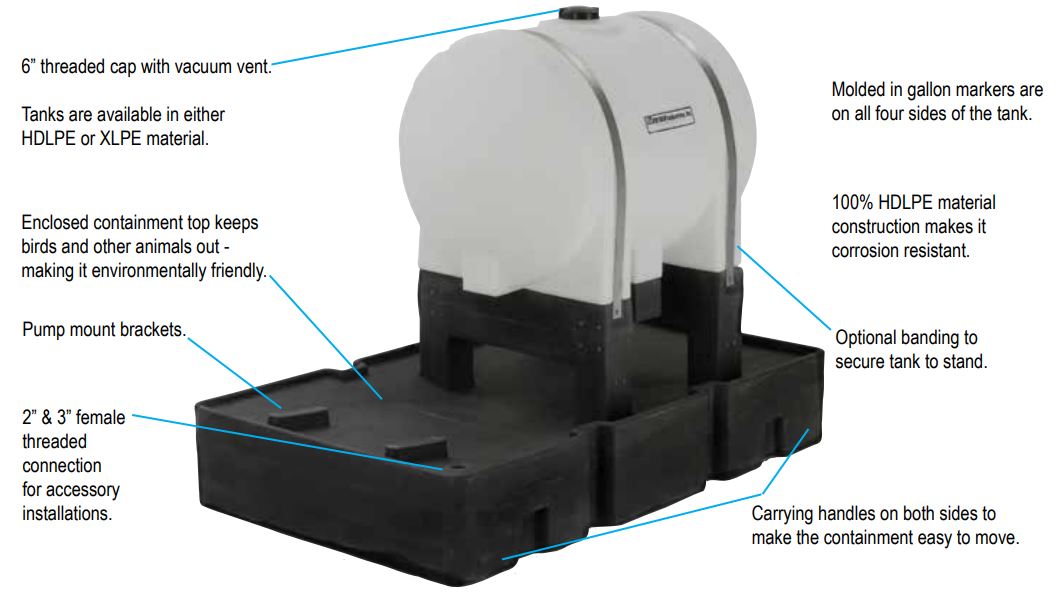 Chemical Injection Systems for the Water Treatment and Oil & Gas Industries.
Corrosion Resistant Polyethylene Stands – won't rust like steel stands which translates
to reduced maintenance
Containment Basins provide 110% containment of tank
Containment Basins have a closed top to keep out debris and to keep wildlife from
getting into the containment
Ideal for chemical injection or chemical feed systems that require a lower profile tank on a stand