Better Water = Healthier Birds

You have a lot invested in your birds.  
You need water treatment for your poultry barns. The  Hawkins Water Treatment Group can assist you  in maintaining your poultry  barns by providing  treatment for safe, clean water and protecting  your birds with:
– Water Treatment Chemicals
– pH Control and Adjustment
– Bio Film Removal Products
– Effective Iron & Manganese Filtration
– Chemical Feed Pump Sales and Service
– Expertise in Biosecurity Protocols
– Safe Chemical Delivery
Clean water leads to healthier birds.
They drink more
Eat more
Are less vulnerable to disease
---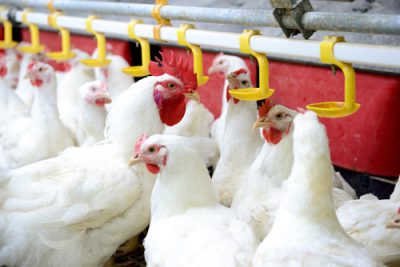 Wastewater Treatment Challenges
During the 2016 International Production & Processing Expo in Atlanta. GA Bill McIntire of Hawkins, Inc., gave a presentation titled "Wastewater Treatment Challenges – Five Shades of Gray" for the IPPE education program.
McIntire's presentation focused on the factors that impact the growth and health of beneficial bacteria, the impact of antimicrobials on the wastewater stream and how bio-augmentation can be a solution.
.
Water Treatment Chemicals:
Sodium Hypochlorite
Sulfuric acid
Hydrogen Peroxide
Hydrochloric Acid
Peroxyacetic Acid
Citric Acid
Sodium Bisfulfate
Clearitas® 401
Azone (Bleach) & AgriHawk HOCI+
(Water Disinfection And PH Adjustment Modifier)
---
Chemical Feed Equipment
For more information on chemical feed equipment used by the Water Treatment Group, please visit the Equipment Group section.