Assmann Double Wall Tanks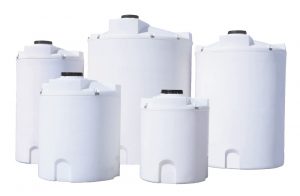 Assmann double wall tanks (IMT) provide the best protection against hazardous chemical spills into the environment. Inner tank dome overlaps outer tank sidewall to prevent rainwater, snow and debris from entering into the containment basin. Our ability to heat trace and insulate make these tanks perfect for temperature sensitive chemicals. Molded-in lifting lugs and upper fitting flats are standard. Molded-in lower fitting flats, along with a sturdy Assmann designed bottom outlet, reduce the cost of expensive double wall outlets.
All double wall tanks are designed with wall thicknesses equal to or greater than that required by ASTM D-1998 standards. Double wall tanks can be customized by adding Seismic zone 4 or 120 MPH wind load tie down assemblies, leak detection, ultrasonic level indicators, and ladders.
Small Double Wall Tanks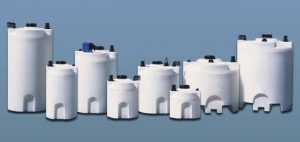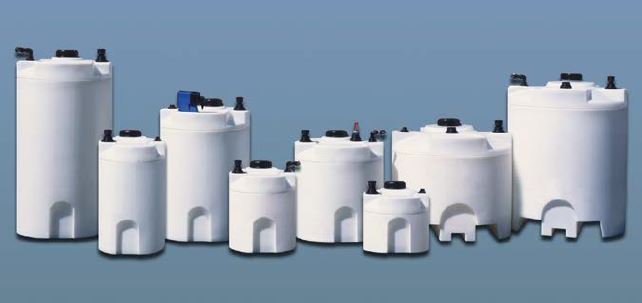 This system consists of a primary inner tank and secondary containment, with a capacity of 120% of the inner tank, exceeding EPA standards and complies with 40 CFR-264.193.
– Inner tank dome overlaps outer tank sidewall to help prevent rainwater, snow, and debris from entering secondary containment, making system ideal for outdoor storage of chemicals
– Molded 7 threaded top access opening is standard. This access opening is chemically resistant and fume tight. Larger access openings available
– Small footprints of 34½ ( & under will fit through standard 36) doorway to allow convenient system location within tight manufacturing areas
– Molded in pump shelf is ideal for installing chemical pumps and metering equipment. This pump shelf is recessed in the top of the tank to contain small chemical spills
– Recessed lower fitting flat will allow fittings to penetrate through the secondary containment wall and into the primary tanks sump. This feature allows full flooded suction for outlet assemblies
– Interstitial leak detection systems option available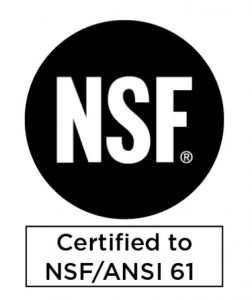 Assmann Polyethylene Tanks are NSF Certified
Assmann Corporation's Crosslink Tanks are approved for chemical storage by NSF!
Schulink XL-350 Crosslink Resin
Assmann is the FIRST Crosslink Tank approved by NSF for chemical storage!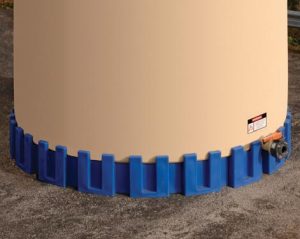 Modular Polyethylene Tank Stand  (Patent Pending)
Assmann Corporation now molds modular polyethylene tank stands. These stands are seismic and wind load rated plus easily disassemble, allowing the tank to be relocated to a different site. Stand elevates the polyethylene tank 12" from grade, providing the ability to fully drain the tank without the installation of expensive concrete pads. 100% chemical resistant and suitable for all corrosive environments. Assmann tested this stand to over 300,000 lbs. of crush force.
Delivering The Quality Service You're Looking For
Our drivers are skilled technicians trained to provide on-the-spot service  with the ability to troubleshoot and repair chemical feed equipment in the field.
An inventory of parts and loaner feed equipment are available on our delivery trucks, if needed.
Hawkins and your Sales/Service Representative are available 24 hours a day, 365 days a year to meet your needs. Hawkins has and will continue to aid customers with emergencies that could occur.