Assmann Polyethylene Chemical Feed Stations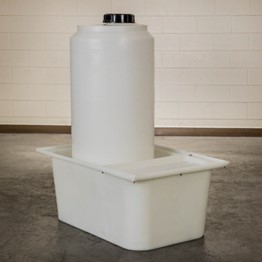 Assmann chemical feed stations allow you to handle small amounts of liquids and other chemicals without the handling costs and inconvenient disposal of steel drums. Lightweight, easy-to-handle and available from 40 gallon tanks to 550 gallon tanks.
Uniform wall thickness allows the entire surface to cure evenly for a stronger tank
Air-cooled for a more uniform resin cure, reduced wall stress and improved shrinkage parameter for more consistent quality, greater structural integrity and longer life
Primary tanks are semi-translucent
Basins are capable of holding a minimum of 110% of the primary tank (Check local regulatory agencies for compliance in your area)
16" threaded lid with removable 6" air breather
Easy-to-read volume markers
Durable, reliable Assmann Polyethylene Chemical Feed Stations are designed with your convenience and the environment in mind
Customize an Assmann Polyethylene Chemical Feed Station to your needs with these and other options:
Primary tanks in corrosion-resistant crosslinked polyethylene
Primary and secondary containment tanks in many colors
Fittings in a variety of sizes and materials to fit your requirements
Delivering The Quality Service You're Looking For
Our drivers are skilled technicians trained to provide on-the-spot service  with the ability to troubleshoot and repair chemical feed equipment in the field.
An inventory of parts and loaner feed equipment are available on our delivery trucks, if needed.
Hawkins and your Sales/Service Representative are available 24 hours a day, 365 days a year to meet your needs. Hawkins has and will continue to aid customers with emergencies that could occur.