Assmann Polyethylene Tanks
The Assmann difference is in the way they make their plastic storage tanks:
Assmann polyethylene storage tanks use a special rotational molding process that uses no pressure for stress free chemical storage tanks that creates a superior product. The Assmann tanks range from 40 to 12,000 gallons, engineered and processed for the most challenging chemical handling and storage applications. They begin by selecting resins with the best properties for the application based on their thirty plus years of molding and in-the- field experience.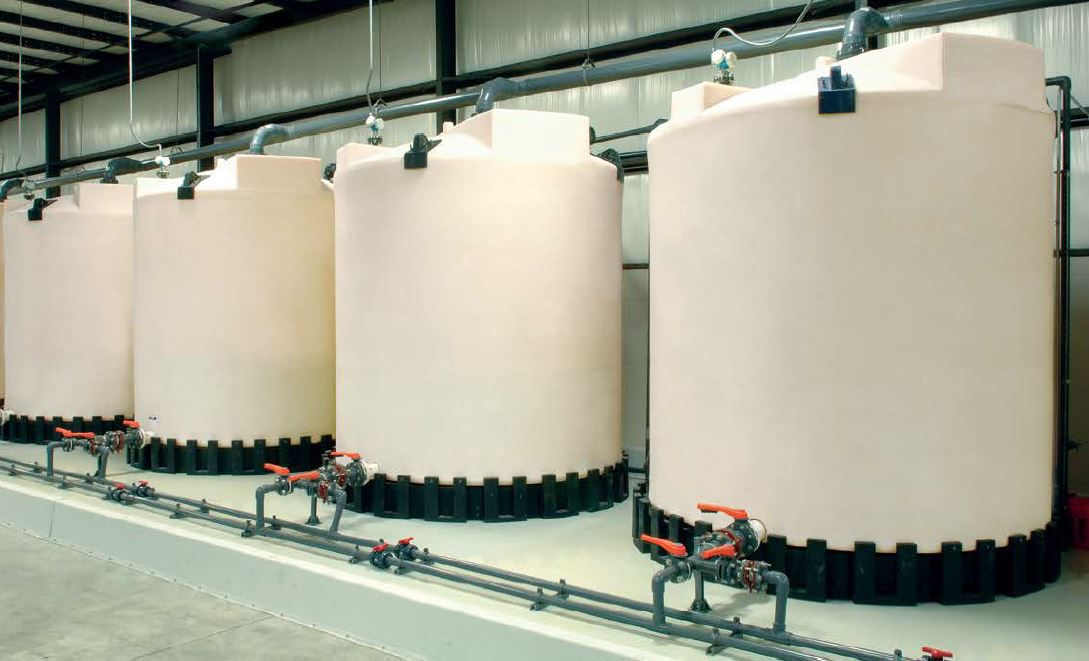 Key Manufacturing Differences:
Rotational Molding of Polyethylene Tanks and Plastic Products: Assmann's unique and efficient large ovens rotate end-over-end, and receive convection heat. The oven's shape and foil design creates optimum airflow and uniform heat to set the first stage for the highest quality parts possible.
Cooling Without Water Allows Cross-Linking Process to Complete All The Way Through the Polytank Wall: Assmann has separate chambers using only very high volume air movement to assure a gradual cooling of the mold and the part inside. This allows the cross-linking process, still taking place upon exiting the oven chamber, to complete all the way through the tank wall. This is essential to optimize the properties of the cross-linked part. (The whole idea is to achieve as close to 100% cross-linking as possible). Assmann introduces no water into our cooling cycle. (Water spray or mist will speed up the process, but will abruptly stop the cross-linking and set up the stresses that will shorten the service life of the tank.)
Tooling Of Plastic Storage Tanks – Assmann Does Not "Shield" Tank Walls: Equally important in our process is that Assmann does not "shield" the outside of our tank molds. They exceed ASTM design hoop stress minimums for the lower sidewall and carry this wall thickness as uniformly as possible throughout the entire tank for maximum structural integrity.
Why is this import? It has become a common practice among Assmann's competitors to wrap and weld layers of sheet metal (shielding) around the outside of the mold to reduce heat transfer and thereby reducing thickness. Upper sidewalls, domes and tank bottoms are often reduced to less than 25% of the thickness of the lower sidewall.
Some of the obvious consequences of this practice competitors use:
There is greater damage when tank restraint systems are put to the test
Tank domes may collapse, even under snow weight
Stress cracking agents along with UV deterioration will accelerate dome failure
Results in uneven cooking and significant variations in gel percentages over the tank structure
Assmann's proven rotational molding process consistently produces a superior product.
Assmann Polyethylene Tanks are NSF Certified
Assmann Corporation's Crosslink Tanks are approved for chemical storage by NSF!
Schulink XL-350 Crosslink Resin
Assmann is the FIRST Crosslink Tank approved by NSF for chemical storage!
NSF is an independent testing company that requires Assmann Corporation of America to comply with strict standards. These standards require extensive product testing and material analysis. NSF undertakes a complete evaluation of our product development before we can meet their certification.
NSF / ANSI 61 program is responsible for the certification of drinking water treatment chemicals and drinking water system components to ensure that these products do not contribute contaminants to drinking water  that could cause adverse health effects.
Assmann Corporation's crosslink polyethylene tanks have been certified by NSF International to ANSI 61 standards for chemical storage. Assmann's unique crosslink resin is certified for many chemical applications. Sodium Hypochlorite, Sulfuric Acid, and Sodium Hydroxide are within the list of chemicals our tanks can be used to store. For a complete list of certified chemicals, visit nsf.org.
In addition to our crosslink tanks for chemical storage, Assmann Corporation's linear polyethylene tanks have been certified by NSF International to ANSI 61 standards for potable water. With both crosslink and linear polyethylene certifications Assmann Corporation can be your first source for both potable water & chemical storage for water treatment.
Assmann Corporation's certification includes tank models ranging in size from 20 through 12,000 gallons.
Assmann Polyethylene Chemical Feed Stations — Compact, Complete And Ready To Use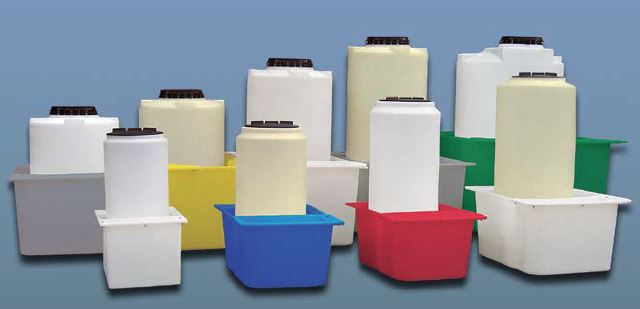 Primary tanks and containment basins are made of corrosion-resistant, FDA-compliant, virgin linear polyethylene (LMDPE)
Assmann chemical feed stations allow you to handle small amounts of liquids and other chemicals without the handling costs and inconvenient disposal of steel drums. Lightweight, easy-to-handle and available from 40 gallon tanks to 550 gallon tanks.
Uniform wall thickness allows the entire surface to cure evenly for a stronger tank
Air-cooled for a more uniform resin cure, reduced wall stress and improved shrinkage parameter for more consistent quality, greater structural integrity and longer life
Primary tanks are semi-translucent
Basins are capable of holding a minimum of 110% of the primary tank (Check local regulatory agencies for compliance in your area)
16" threaded lid with removable 6" air breather
Easy-to-read volume markers
Durable, reliable Assmann Polyethylene Chemical Feed Stations are designed with your convenience and the environment in mind
Customize an Assmann Polyethylene Chemical Feed Station to your needs with these and other options:
Primary tanks in corrosion-resistant crosslinked polyethylene
Primary and secondary containment tanks in many colors
Fittings in a variety of sizes and materials to fit your requirements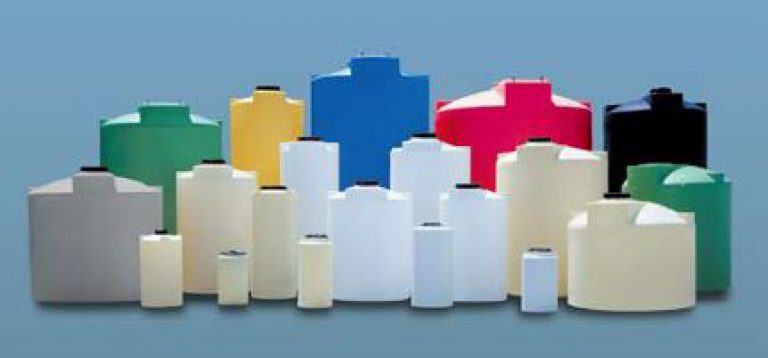 Vertical Storage Tanks  (40 Gallons – 12,000 Gallons)
Rotationally molded tanks from your choice of virgin high density crosslink or FDA-compliant linear polyethylene. Either is more corrosion and chemical resistant than fiberglass, stainless or mild steel. Tanks are semi-translucent, one-piece seamless molded units with gallon markers and access openings molded-in. Wall thickness conforms to ASTM D-1998 standards for liquid storage. Narrow diameters for space-saving in-plant use. They possess excellent low temperature impact resistance and are U.V. stabilized. Available in natural color or optional blue, green, red, yellow or black. Can be equipped with accessories to fit your needs.
Molded In Full Drain Outlet – Patent Pending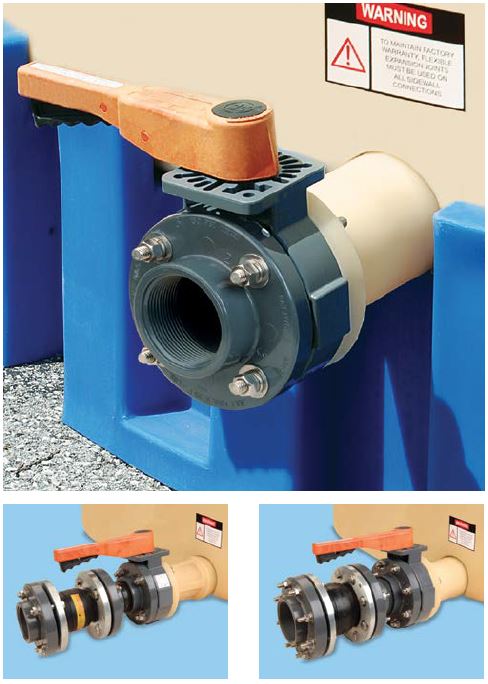 Assmann also offers a unique FDO (Full Drain Outlet) outlet assembly. This outlet provides the ability to fully drain your tank without the need for mechanically installed nozzles. The full drain assembly should be utilized where heavy solids or salts can accumulate in the bottom of the tank thus creating difficult maintenance work. This assembly virtually eliminates the need for confined space entry.
The assembly utilizes a metallic molded in insert. This insert is available in 316 Stainless steel, Titanium and Hastelloy C-276. These material variations allow us to store virtually any chemical in our tank.
Also unique about the FDO assembly is the fully replaceable polyethylene flange adapter. The adapter can be removed so that the tank can be installed on a flat surface without concrete pad. This also provides the ability to replace the flange in the event of chemical or mechanical damage without having to replace the entire vessel.
Assmann Double Wall Tanks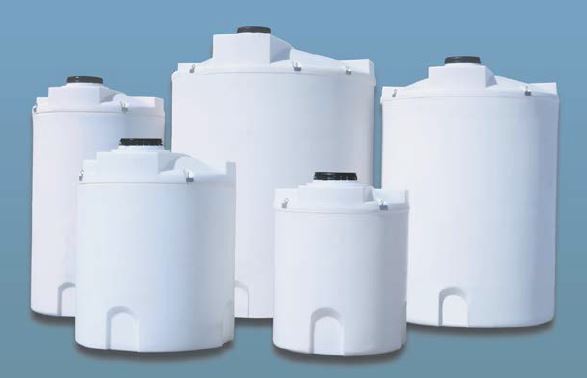 Assmann double wall tanks (IMT) provide the best protection against hazardous chemical spills into the environment. Inner tank dome overlaps outer tank sidewall to prevent rainwater, snow and debris from entering into the containment basin. Our ability to heat trace and insulate make these tanks perfect for temperature sensitive chemicals. Molded-in lifting lugs and upper fitting flats are standard. Molded-in lower fitting flats, along with a sturdy Assmann designed bottom outlet, reduce the cost of expensive double wall outlets.
All double wall tanks are designed with wall thicknesses equal to or greater than that required by ASTM D-1998 standards. Double wall tanks can be customized by adding Seismic zone 4 or 120 MPH wind load tie down assemblies, leak detection, ultrasonic level indicators, and ladders.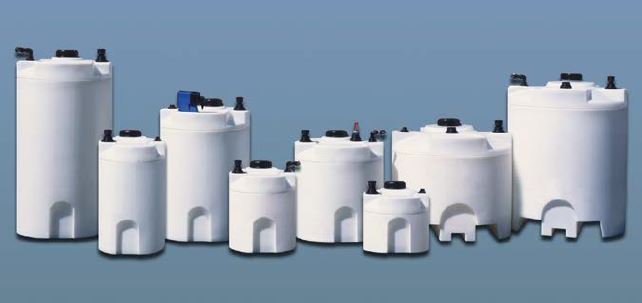 Small Double Wall Tanks
This system consists of a primary inner tank and secondary containment, with a capacity of 120% of the inner tank, exceeding EPA standards and complies with 40 CFR-264.193.
Inner tank dome overlaps outer tank sidewall to help prevent rainwater, snow, and debris from entering secondary containment, making system ideal for outdoor storage of chemicals
Molded 7( threaded top access opening is standard. This access opening is chemically resistant and fume tight. Larger access openings available
Small footprints of 34½( & under will fit through standard 36) doorway to allow convenient system location within tight manufacturing areas
Molded in pump shelf is ideal for installing chemical pumps and metering equipment. This pump shelf is recessed in the top of the tank to contain small chemical spills
Recessed lower fitting flat will allow fittings to penetrate through the secondary containment wall and into the primary tanks sump. This feature allows full flooded suction for outlet assemblies
Interstitial leak detection systems option available
Modular Polyethylene Tank Stand  (Patent Pending)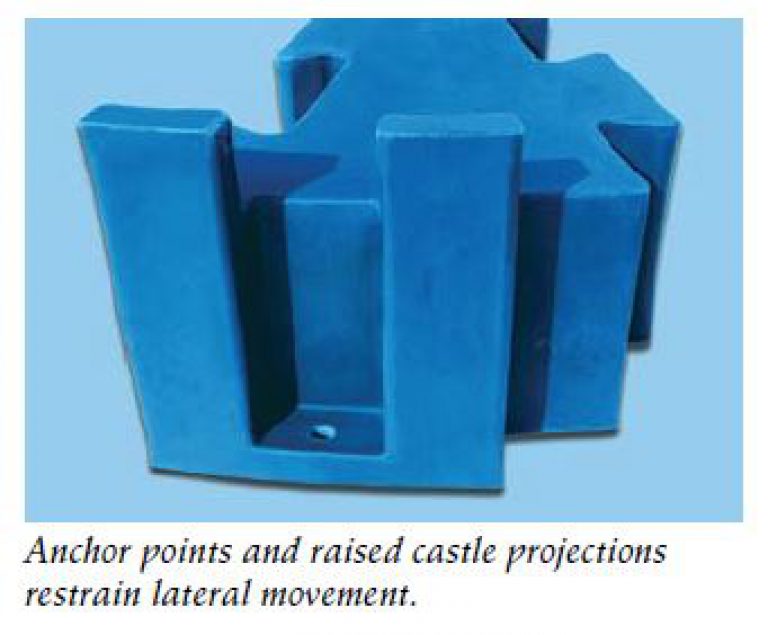 Assmann Corporation now molds modular polyethylene tank stands. These stands are seismic and wind load rated plus easily disassemble, allowing the tank to be relocated to a different site. Stand elevates the polyethylene tank 12" from grade, providing the ability to fully drain the tank without the installation of expensive concrete pads. 100% chemical resistant and suitable for all corrosive environments. Assmann tested this stand to over 300,000 lbs. of crush force.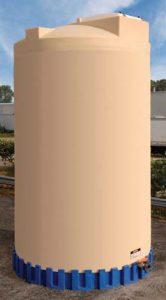 Delivering The Quality Service You're Looking For
Our drivers are skilled technicians trained to provide on-the-spot service  with the ability to troubleshoot and repair chemical feed equipment in the field.
An inventory of parts and loaner feed equipment are available on our delivery trucks, if needed.
Hawkins and your Sales/Service Representative are available 24 hours a day, 365 days a year to meet your needs. Hawkins has and will continue to aid customers with emergencies that could occur.