Chill-Pro: Inhibited, Biobased, Propylene Glycol
Hawkins Is Where To Buy Propylene Glycol.
Hawkins supplies propylene glycol in bulk (tank truck) and in multiple packaging options
We can custom blend percentages to your specifications
Chill-Pro is a renewable soy-based fluid
We have two main types of propylene glycol:
Food Grade Inhibitors — this page
Heavy Duty (HD) Industrial Grade Inhibitors click here.

Chill-Pro – Tailored Heat Transfer Fluid Solutions

Ideal For Food Plant HVAC Systems
Customized for your operation:  Biobased propylene glycol customized for your operation. Hawkins distinguishes itself by offering customers the best of both worlds: the ideal product for your food-adjacent HVAC system and the kind of responsiveness you've always wanted. We work closely with our partners to create formulas and support plans that optimize their systems and keep them running without interruption.
We'll do the same for you — creating and implementing your ideal Chill-Pro formula with the speed and efficiency you need to operate at peak performance and stay ahead of trouble.
Clean & Green:  Chill-Pro is a renewable soy-based fluid that provides immediate green points and opens you up to a future of opportunities. It's approved for food applications (GRAS) and is the first propylene glycol to meet United States Pharmacopeia (USP) and USDA certified biobased product label standards. Chill-Pro is a Propylene Glycol with Food Grade Inhibitors. 
"It's a great solution for businesses who want to earn points towards LEED O+M Certification."
Test & Tailor: Your specific system needs are verified and then we formulate a custom approach that promises optimal results. Our testing is comprehensive and conclusive and the reason our solutions succeed.
Fast & Efficient: Hawkins world-class lab and tech support quickly formulates our ready-to-use inventory to the specific concentrations you need. No one else provides such perfect formulas or employs them with so much speed.
Service & Support: We go all out to understand our customers' needs and are always available with timely help, proven science, and unsurpassed technical know-how. It's a difference you'll see on Day One.
Chill-Pro Propylene Glycol Key Benefits:
Food-safe products and superior service — your formula for the future: Hawkins' unique combination of technical expertise and nimble support gives our customers a decided edge in HVAC performance. You can be confident we'll match or exceed the quality of any available formulations. You can also be certain we'll provide faster and more customized service. It's a combination unmatched in the industry.
Inhibited corrosion protection for food applications:  Chill-Pro is specially inhibited to provide food-adjacent HVAC systems with superior corrosion protection for most metals, including brass, cast aluminum, cast iron, copper, solder, and steel.
Testing for peace of mind: We'll keep you a step ahead of system failures by keeping your system at optimum levels — and we'll do it at the best possible cost. Hawkins testing programs are renowned for determining and maintaining correct concentration levels and for extending the life of your heat transfer system.
A New Standard For Food Plants And More
Chill-Pro Propylene Glycol is GRAS and meets FCC specifications for use in food plants. It offers excellent freeze/burst and corrosion protection for HVAC systems  involving food and beverages. It also excels in a broad range of applications:
Geothermal approved in Minnesota and Wisconsin
Thermal Energy Storage (TES) systems
Ground source heat pumps
Hydronic heating systems
Heat recovery
Solar heating
Sidewalk snow melt systems
Radiant floor heating
Conveyor roller defrosting
Refrigeration coil defrosting
Cold room dehumidifying
Beverage processing
Controlled temperature batch processing
Refrigeration
Immersion freezing
Process chilling
Product and food cooling
Fermentation cooling
Ice skating rinks
Chill-Pro Propylene Glycol Product Features
Virtually odorless
Clear, water white liquid appearance
Diluted; easily mixes with water
Available in plastic drums, plastic totes, and in bulk
Dye options available
Custom blending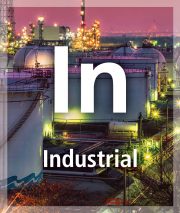 Hawkins Is A Key Biobased Propylene Glycol Supplier & Distributor
For a reliable, consistent source of inhibited, biobased propylene glycol contact Hawkins for a propylene glycol quote.
Hawkins is a business-to-business supplier, manufacturer, blender, and distributor of chemicals. We only sell to companies, municipalities, government entities, and not to individuals.
For Pricing Or More Information Please Provide Your Organization's Contact Information Below:
Links to featured products below.  For a full product listing visit the Industrial home page: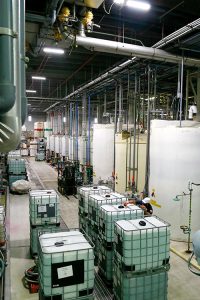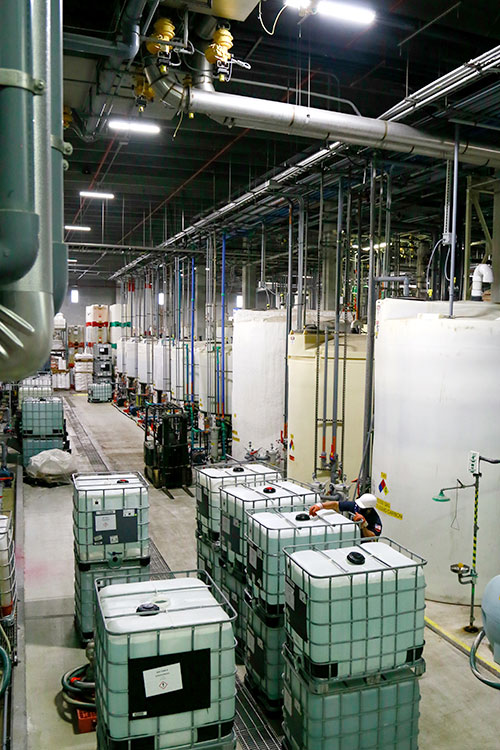 Packaging To Meet Your Needs