Legionella Water Treatment Innovation
Legionella Warning
Legionella bacteria are found in water systems with a general temperature range of 68°F to 120°F. Cooling towers, evaporator condensers and water systems can be an active growing environment for the Legionella bacteria.  You have to be forever vigilant and diligently take precautions to minimize Legionella contamination in water systems
Here's How Hawkins Can Help
OXI-King™ Water Treatment System:
OxiKing™/OxiKing™BromPac utilizes BCDMH halogen microbiocide. A great tool in the war against Legionella
Saves you valuable time with pre-filled, no touch Oxi-King™ Brom Pacs – Significantly reduces bromine dust
OxiKing™/OxiKing™BromPac vastly improves safety and ease of use for service personnel, facility operators and the environment!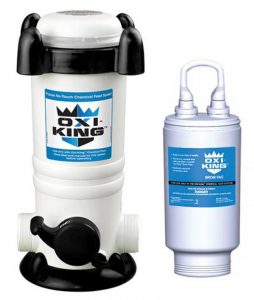 Benefits Of This Bromine Based Chemistry For Legionella
Quick, universal installation works with multiple applications
Easy to use. Easy to handle
Proprietary solid oxidizing biocide delivery system provides simple water treatment for industrial and commercial applications
Broad spectrum, bromine based chemistry provides optimal microbiological control including Legionella pneumophila
Pre-filled bromine pacs significantly reduce hazardous material handling concerns
10 setting control dial ensures easy feed rate adjustments
Controls system fouling
Saves you valuable time with pre-filled, no touch Oxi-King™ Brom Pacs – Significantly reduces bromine dust
Easier for employees to handle. Facility-friendly
EASY TO USE:   The Oxi-King feeder takes very little time to install and is designed to work on a variety of applications. It's pre-filled bromine pacs are long lasting and very easy to replace when empty with no accidental spills or needing to measure out the right amount
EASY TO HANDLE:  Oxi-King's pacs are easily portable and take up less storage space than large bulk drums.  Brom Pac's are pre-filled so no chance of spilling.  This facility friendly system also offers less handling for the service tech by significantly reducing the weight they have to transport from truck to application. No more heavy lifting of bromine pails to fill brominators or partial pails sitting around.
EASY TO REGULATE:  The Oxi-King feeder has an erosion design and a precise metering dial that limits how much bromine gets wet at one time which makes it much easier to maintain a consistent output. Ten unique settings and the option of bleeding the air for more output offer greater flexibility from a single system.
"It saves me time for other maintenance work because it only takes about 1/4th of the time to change compared to the bulk brominators"
"This is much better than lugging buckets upstairs to equipment room"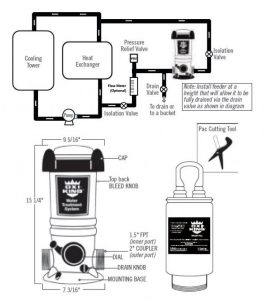 What would happen if it was determined your cooling tower was responsible for a legionella outbreak?
What would you do?
How would you handle it?
Who would you call?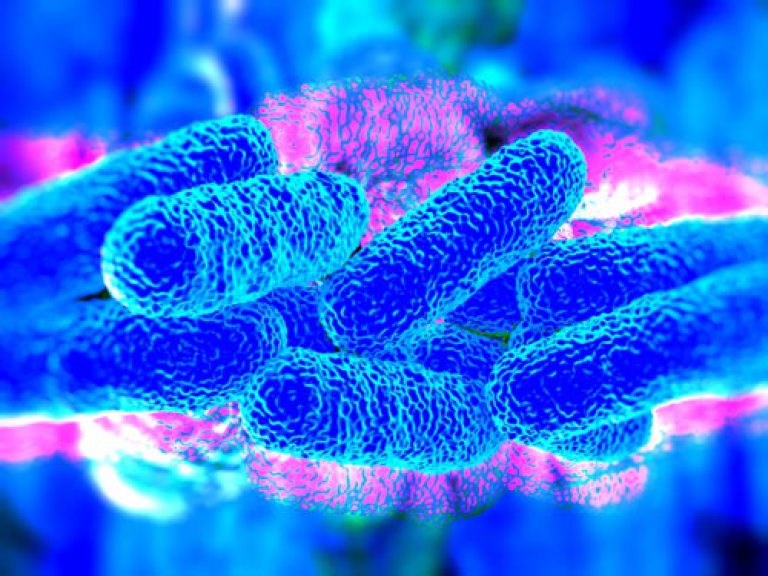 Proper Legionella Water Treatment Protects:
Protects the people in your area.
Protects your organization/company/building owners
Protects your organization's reputation
Keep Your Water Safe
We can help you keep your cooling towers free from legionella.
Easier to use! No refilling brominators!
Saves valuable time with patented pre-filled granulated BCDMH cartridge!
No bromine dust! No clean up! No spillage! No offensive odors!
Safer for service personnel to handle! You do NOT come in contact with the BCDMH!
Quick universal installation works in a multitude of applications!
 Contact the Water Treatment Group for more information on our products and services.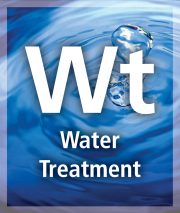 REQUEST MORE INFORMATION
Hawkins is a business-to-business supplier, manufacturer, blender, and distributor of chemicals.  We only sell to companies, municipalities, government entities, and not to individuals.  For pricing or more information please provide your company contact information below:

Great Resources from Centers for Disease Control and Prevention (CDC):
What Owners and Managers of Buildings and Healthcare Facilities Need to Know about Legionella Water Management Programs:
https://www.cdc.gov/legionella/wmp/overview/wmp-fact-sheet.html
Prevention with Water Management Programs:
https://www.cdc.gov/legionella/wmp/index.html
Toolkit:  https://www.cdc.gov/legionella/downloads/toolkit.pdf
Additional Water Treatment Chemicals
Ammonium Sulfate
Anhydrous Ammonia
Calcium Chloride
Calcium Stabilization Products
Calcium Hypochlorite
Carbon
Chlorine
Coagulant Aids
Corrosion Control
Deposit Control Products
Ferrous Chloride
Ferrous Sulfate
Fluorosilicic Acid
HTH
Iron Stabilization
Lead Corrosion Control
Lime
Lime Build-Up Control
Manganese Stabilization
Paper/Pulp Water Products
Phosphoric Acid
Polymers
Soda Ash
Sodium Aluminate
Sodium Bicarbonate
Sodium Fluorosilicate
Sodium Hydrosulfite
Sulfur Dioxide