You can view our company's water treatment video overview below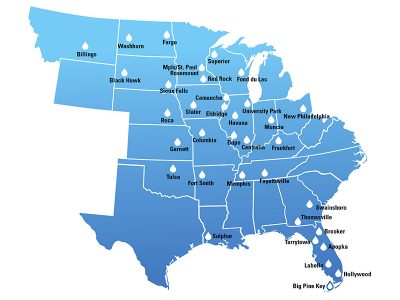 Providing water treatment chemicals, solutions and service for safe, clean water
The Hawkins Water Treatment Group supplies products to customers in 18 states across much of the U.S. We utilize a route/salesperson approach in supplying products and equipment to our customers. Our driver/technician/salesperson is trained to handle on-the-spot service on the equipment we sell, as well as helping our customers find system solutions.
Hawkins is a trusted resource for our customer partners. Water is vital to everyday needs and Hawkins helps maintain this critical resource with local deliveries, a large product line and service. Hawkins also provides regulatory knowledge, equipment, water treatment chemicals and custom solutions for clean, safe, reliable water. Every customer is different and Hawkins has the technical expertise to help develop solutions to overcome the specific challenges they face.
The Hawkins Water Treatment Group supplies a wide product line of equipment and chemicals for a diverse marketplace. We provide municipal water treatment products, municipal wastewater treatment chemicals, industrial wastewater treatment products, and industrial process water treatment chemicals. In addition we carry specialty products for the water treatment of poultry barns. The Hawkins Water Treatment Group has the privilege of serving hundreds of poultry barns. With safe, clean drinking water our customers help keep their birds healthy and safe from the spread of disease and infection. For more information and see a video click "Water Treatment for Poultry Barns". You'll find out about our AgriHawk HOCl+, Sodiun Hypochlorite and the AgriHawk Rapid MIx System.
WATER TREATMENT MARKETS WE SERVE
WATER TREATMENT CHEMICALS
Hawkins carries a wide selection of water treatment chemicals and products that are reliable, high quality, and cost effective.
Water treatment chemicals from the Hawkins Water Treatment Group include a complete range of chemical formulas specifically designed for water treatment applications in municipal drinking water, municipal wastewater, industrial and additional industries.
Ammonium Sulfate
Anhydrous Ammonia
Calcium Chloride
Calcium Stabilization Products
Calcium Hypochlorite
Carbon
Caustic Soda (Sodium Hydroxide)
Chlorine
Coagulant Aids
Corrosion Control
Deposit Control Products
Ferrous Chloride
Ferrous Sulfate
Fluorosilicic Acid
HTH
Iron Stabilization
Lead Corrosion Control
Lime
Lime Build-Up Control
Manganese Stabilization
Paper/Pulp Water Products
Phosphoric Acid
Polymers
Soda Ash
Sodium Aluminate
Sodium Fluorosilicate
Sodium Hydrosulfite
Sulfur Dioxide
Sulfuric Acid Injection System
Packaging To Meet Your Needs
We Can Supply:
Mini Bulk Chemicals For Water Treatment
Bulk Chemicals, Tank Trucks
Water Treatment Chemicals In Del Drums
Water Treatment Chemicals In 55 Gallon Drums
Water Treatment Chemicals In Totes
Delivering the quality service you're looking for:
Our drivers are skilled technicians trained to provide on-the-spot service with the ability to troubleshoot and repair chemical feed equipment in the field.
An inventory of parts and loaner feed equipment are available on our delivery trucks, if needed.
Hawkins and your Sales/Service Representative are available 24 hours a day, 365 days a year to meet your needs. Hawkins has and will continue to aid customers with emergencies that could occur.